Planning Your Government Services Company
Finding and Pressure Testing Your Market, Partners, and Customers
Goals of This Guide
This guide will help you set your company up for success by walking you through our approach to:
Identifying and evaluating

The products/ services you could provide
Your potential partners
Your potential customers

Identifying which combinations of products/services, partners, and customers are most likely to be successful
Building your, and your company's, brand, network and credibility.
Who We Are and Why We Wrote This Guide
We've helped hundreds of Government Contractors (GovCons) plan, launch, and grow. And over this time we've found that there are consistent trends among the companies that succeed, and the companies that fail.
The number one reason we've seen companies fail is because they didn't take the time to research, create, and validate their plan/business model. Over the years we've met hundreds of prospective entrepreneurs who've had great ideas for a business but who've never gotten traction in the market, never turned their idea into revenue.
This guide is the summation of the best practices we've seen for building your business plan and we hope that it helps you create a strong foundation that gives you the best chances of success.
Here's a bit more about us: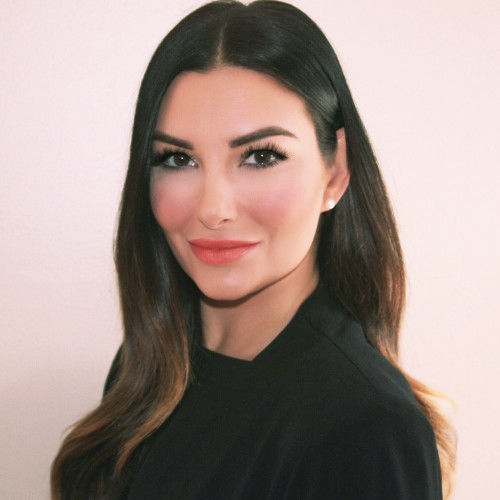 Sanja Basaric
CEO SVB Consulting
An accomplished entrepreneur and strategic leader, Ms. Basaric has 15 years of experience in federal civilian, veteran, and defense health and biomedical systems, public-private partnerships, emerging technologies, digital health, and healthcare data compliance. She is a passionate business development professional committed to driving partnerships between industry and the federal government through proven ability to conceive strategy, apply technology innovation, secure stakeholder buy-in, and communicate vision as a trusted business partner and advisor. Her client experience includes the National Institutes of Health (NIH), Centers for Medicare and Medicaid Services (CMS), Food and Drug Administration (FDA), Department of Veterans Affairs (VA), and the Department of Defense (DoD). She currently serves as the Founder and CEO of SVB Consulting, LLC, a Washington, DC based business development and advisory firm. She is a published thought leader and recipient of numerous federal government achievement and performance awards.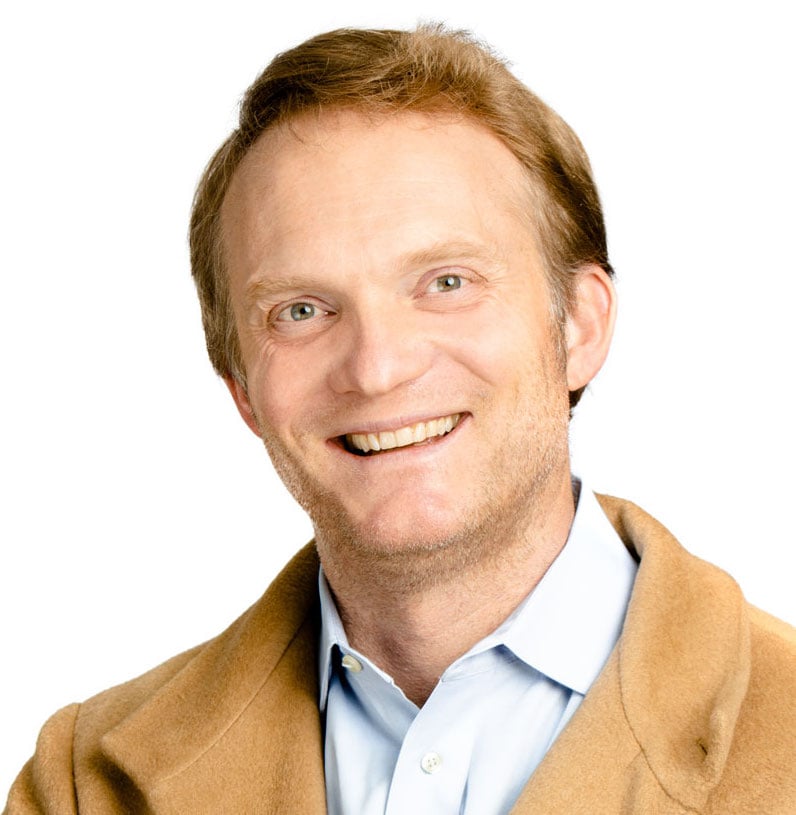 Geoff Orazem
COO FedScout and Eastern Foundry
Geoff Orazem is the founder of Eastern Foundry (an incubator for government technology companies) and FedScout a mobile app and platform to make the government market more accessible. Geoff is a frequent speaker and educator on government innovation and funding topics. Before entering the government market Geoff was an Engagement Manager with McKinsey & Co and started his career in the Marine Corps. Geoff holds a law degree from Harvard.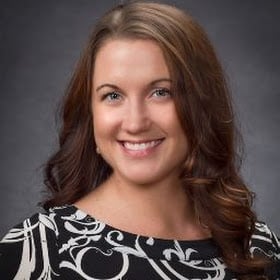 Brandi Spring
President BOE Consulting
Brandi Spring is a Business Operations leader who recently launched BOE Consulting to assist companies in establishing and finding success during any stage along their growth journey. Brandi entered the government contracting space 5 years ago becoming the Director of Operations for a technology company that was in its most exploratory growth years of business development. Before joining the government space, Brandi managed operations with a specialty in process improvement primarily in healthcare and non-profit organizations. Brandi has a Masters degree in Human Services from Liberty University.
Before You Begin
Before starting to plan we recommend that you assess whether entrepreneurship is right for you. If you'd like a structured approach to exploring entrepreneurship click HERE
Common Planning Trends of the Successful and Unsuccessful Companies We've Met
Here are the trends we've identified among companies that have succeeded and those that have struggled:
| Companies that succeeded | Companies that failed |
| --- | --- |
| Began planning well before (6-12 months) they needed to make money from their business | Began planning less than 2 months before retiring from the military or leaving their current job |
| Identified and researched their customers, their service or product, and the competitive landscape | Thought that their relationships with senior military officers and agency personnel would win them work |
| Had a crisp articulation of why their product or service was different and better than what was on the market | Thought that they could provide commodity products and services because they had a set-aside |
| Had deep subject matter expertise | Focused on whatever was hot at that moment |
| Treated marketing and sales like a professional discipline | Built shoddy websites and marketing materials because "the government evaluates my proposal not my website" |
| Understood the government contracting process | Couldn't be bothered to learn the mechanics of the contracting process |
| Figured out solutions to help the government buy from them | Expected the government to figure out the niceties of contracting for them |
| Were ready to subcontract and had identified likely primes | Insisted on being the prime |
Overview of Our Planning Process
Summary
In a nutshell we will:
Brainstorm around the core pillars for your business:

The services and products you could provide
The government contractors you know for partnership
The potential government customers you know

Assess each element above and discard low probability options
Start forming "business hypotheses" (a combination of a customer, a product or service, and a partner that could lead to success)
Review, Rank, and select your most promising business hypothesis
Pressure test your hypothesis and build your reputational foundation
Download the Planning Workbook
Brainstorm the Services and Products You Could Provide
We believe that business analyses should start with an exploration of what the customer wants and letting everything else flow from there, so:
If you know what your customer needs then start with that and you can skip this step (we recommend focusing on a couple agencies initially to create a manageable list).
If you don't know what your customer needs then you're in a funny place because the government needs everything but exploring everything would take a lifetime. So, to help us focus our exploration we recommend starting with a list of the things you could do and then explore the government's needs in those areas.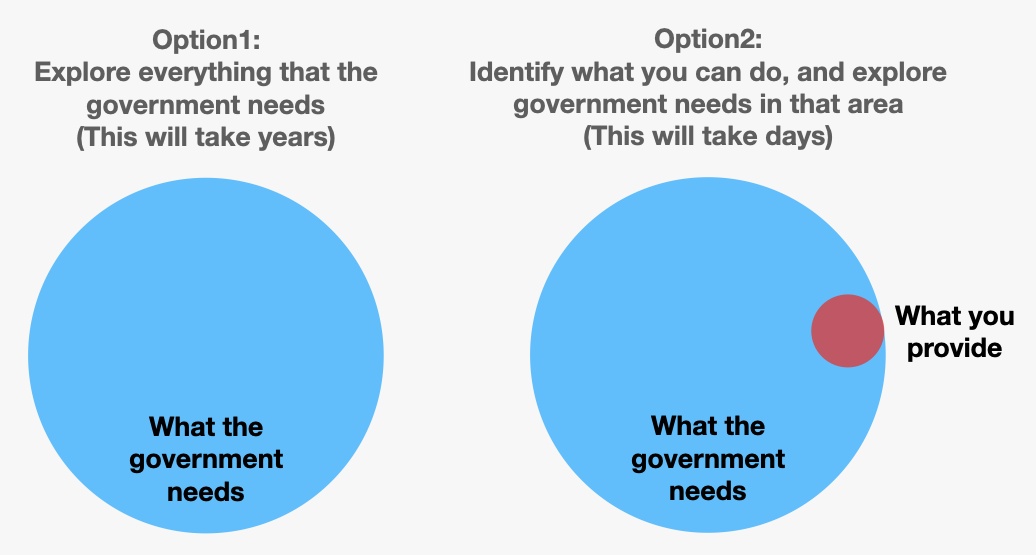 To create a list of things you could provide: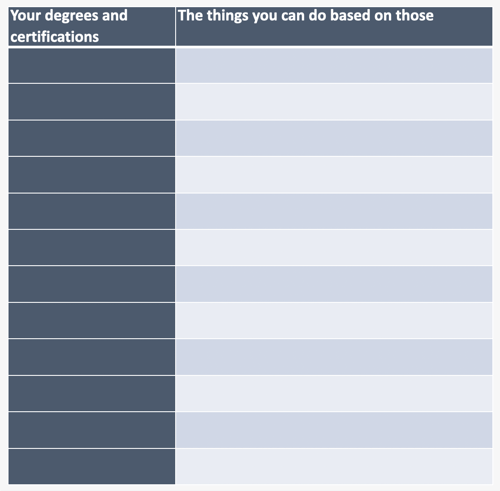 Open your workbook to the first section
Review all your old jobs and the elements of those old jobs. Think through:

What you did. For example:

Managed a cybersecurity team
Managed a budget
Managed a major project
Analyzed large data sets
Modernized an IT system

What you did well
What you liked doing

List the services related to any certifications and degrees that you have
Consider whether any of your hobbies could become a business
List the products you make or could resell.
Brainstorm the Partners You Could Work With
You may be surprised that we focus so much on partners but as a new business, your relationships with partners are frequently the key to your success.
To create a list of potential partners (Companies as well as employees):
Search through LinkedIn for people in Government contracting

Review the membership of any trade associations you're a part of (e.g. the Chamber of Commerce)
As you find people you're connected to write their name along with the goods and services that they provide, down in your workbook. You may not have many people on your list now, but don't worry, as we get further along we'll identify more potential partners.
A note on partners, competitors, and "competimates:" A common mistake we see, especially among new companies, is a reluctance to admit that they have competitors. You may think that the way you deliver your service or that the unique functionality of your product means that you don't actually have competitors but a couple notes:
99% of the time if there are no competitors it means that there is no market for what you want to do
If it takes you more than 15 seconds to explain why your product or service is different then most people will just lump you in with the rest of the market
The existence of competitors in no way diminishes your company or your success
As a new company you choose who your competitors are. If you find a bunch of well established competitors then adjust your product or service offerings to be supportive of those competitors and voila! You've just turned all those competitors into partners.
Brainstorm the Government Agencies You Could Serve
The government is massive and opaque so figuring out who might buy your product or service can be really challenging for new entrants. For now we recommend:
Searching through LinkedIn for people you know in government
Looking for govies in communities you're a part of (could be church, community, athletic, or professional groups)
Identifying which agencies the companies on your partners list are already working for (if you don't know how to do this click HERE
Identifying government agencies that buy a lot of your proposed products and services. (If you don't know how to do this click HERE
Look for government offices that are physically close to you (Proximity may seem arbitrary but your life will be much easier if you can frequently visit your customer). For information on doing this analysis click HERE
The Importance of Each Element
In our experience new companies get their first win when they have a crisp understanding of their product/service, partner and customer and when all three support one another. This may seem intuitive but let's take a quick look at what happens if you're missing one of the three.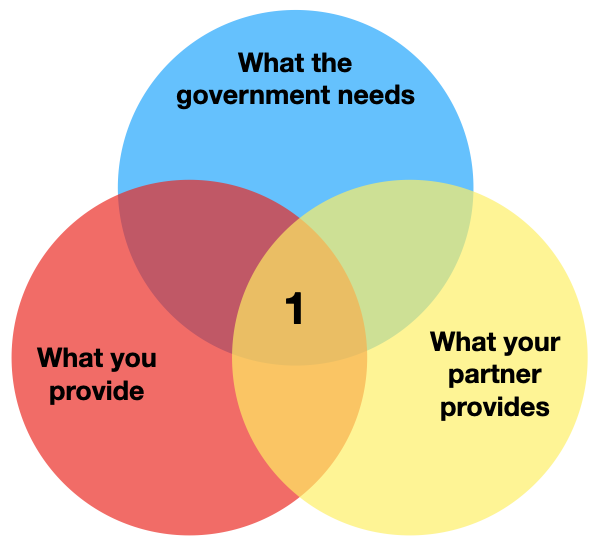 You've got it all:
You provide a product or service your customer wants
There is a customer that needs it
You have a partner who can handle the administration and process associated with winning and delivering the work
You bid, you win, you deliver, you get paid.
Rinse and repeat and get ready to grow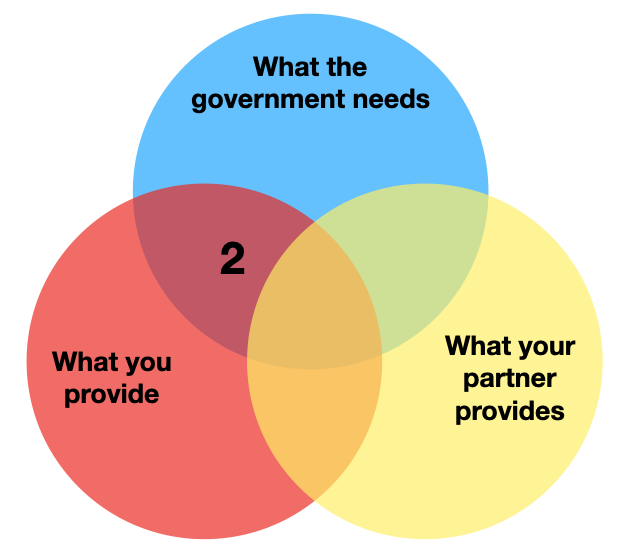 In this scenario you provide a service that the government needs but you're missing the partner, which can create a few problems:
You can't meet the past performance requirements in the RFP (e.g. the government requires that the winner have already done 3 government projects to be eligible)
You can't meet the admin requirements (e.g. the government wants you to have a "DCAA" accounting system. Which is tough for a new company)
The government wants to buy through a Master Services Agreement (known as a Schedule, GWAC or IDIQ that you're not on)
The government doesn't trust that you can manage the ongoing contract compliance
If you're on your own each of these issues can be a show stopper but if you have a community of trusted partners they can be solved with a phone call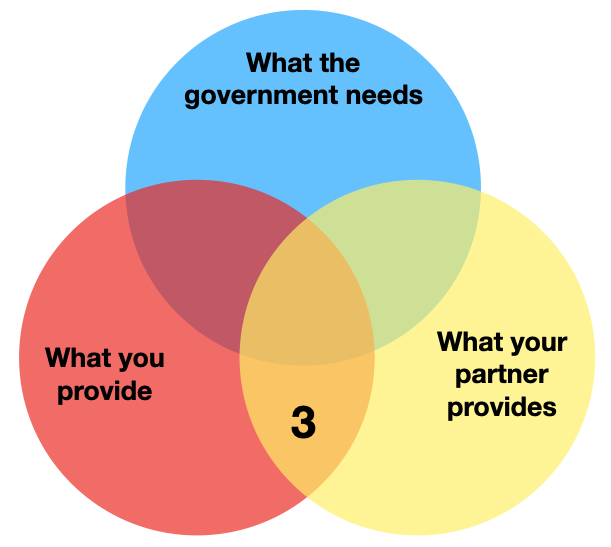 The government doesn't need what you sell. As we said, the government buys just about everything so lets get more clarity about what's happening here:
You're trying to sell something that the government just doesn't buy (rare but it does happen)
The government needs what you're selling but they're already buying it from someone else
The government needs what you're selling in general (e.g. the government needs cyber security support) but they don't like your version of it (e.g. your solution relies on outsourcing to China)
Once you understand why the government doesn't need what you have you can shape your offering to align to the customer's interests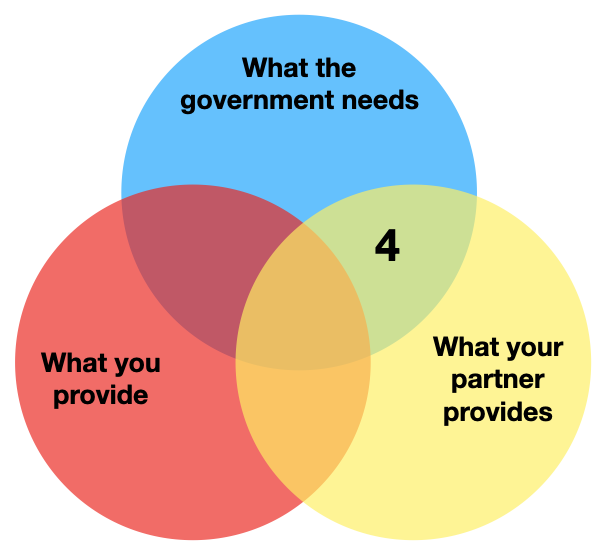 In this scenario you've got good partner relationships and you've identified a government need but your solution isn't getting traction. Typically this is because:
The product/ service you provide is so different from what your partner provides that there isn't an opportunity to collaborate (e.g you sell cybersecurity and they sell janitorial services)
The product/ service you provide is directly competitive with your partner's product/ service so they don't want to work with you
Assessing and Trimming Your List
Assess the Products and Services you Could Provide
For each product or service you've listed let's identify why a customer would choose you and do a quick assessment of the market for that product or service. And in our experience customers will choose you either because:
You're credible (When the customer is optimizing for low risk): If the customer wants a low risk solution, which typically means that they like the current state and want to maintain the status quo, then they'll typically choose the provider based on their credibility (e.g. their years of experience).
You're different (When the customer is optimizing for innovation): If the customer thinks that the usual way of doing things isn't working then to win you'll have to have a perspective on why the current system is broken, have fresh ideas about how to do it better, and the customer will have to find your ideas credible.
And to decide whether the market is favorable or not look at:
The market size: At the end of the day there has to be enough money in the market to support at least one business (yours) and realistically there has to be enough to support a LOT of businesses.
Assess how credible you are:
The goal here is to get a sense for how a government RFP evaluation committee will evaluate you. Keep in mind that all they will see is your written proposal and resume. The evaluators won't get to hear how earnestly and passionately you talk about your service, or the nuances of your work that demonstrates your credibility. They are going to see your years of experience, your education and maybe a couple write-ups of projects you've done in the past.
So let's see how credible you are on paper.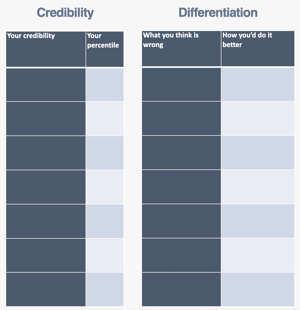 Fill in the worksheet columns on credibility associated with each service in terms of total years, degrees, etc. Then determine what percentile that puts you into.
For example, if the first service on your sheet is "Cyberservices" and you have ten years of experience then in the first column write "10 years of experience". Then estimate what percentile that likely puts you in compared to everyone else doing cyberservices. Does 10 years of experience give you more experience than 90% of other people in the market? 80% of the other people?
This is going to be rough but put down your best guess.
Assess your Differentiation
Quantifying differentiation is really tough, but a reasonable proxy is the volume of your ideas.
Write out all the reasons why the current approach to delivering the product or service is broken
Write out the way you think it should be done differently
Put stars next to your highest scoring products/services in terms of both credibility and differentiation. Credibility and differentiation are not mutually exclusive. You can be very credible in a space while also having a strong point of view about how your approach would make it better.
This analysis doesn't exactly tell you which products and services are best for you, but they should give you a sense for where you have a competitive advantage.
Assess Market Size
Next we need to make sure that people are actually buying your product or services. Assessing market size "correctly" is time consuming and requires that we dive into complex government data. And right now we just need to know that there is a decent sized market, not be precise about its size. And for that level of precision we just need to see whether anyone else is providing your product or service.
Go back to your partner analysis and see how many do things like what you are planning to do. Then do some google searches and see if you can find other companies doing what you want to do. It may not be an exact match but ask yourself whether you'd be likely to bid on the same RFPs as them. This is also a great opportunity to dig into their suite of products and services and determine what differentiates you from them. You can also use this to see what products and services successful companies in your space tend to provide.
If no one else is providing your kind of work it may mean that the market is too small to support a company. This is a pretty strong red flag but of course there are exceptions to every rule and the exception here is when you have a government customer who wants exactly what you do. Sometimes you come up with something novel that no one else is doing, and that people didn't know they wanted. If you find yourself in this situation, congrats, you have a first mover advantage!
On the other hand if you can find a dozen other companies providing your product or service then that's good validation that there is a sufficiently large market. So start thinking about whether customers will choose you over everyone else because of your credibility or differentiation.If you want to get into the data and do some analysis driven market research then read our article HERE
Assess Your Potential Partners
The goal here is to rank the partners you've identified based on how aligned your service/ product offerings are and how likely they are to want to work with you.
How to assess alignment: As a new company it can be hard to assess whether your products and services are likely to be symbiotic, competitive, or unrelated to a partner's, but here are a couple ways to approach this question:
Do larger companies provide both your, and the other company's service/product? If so, it's a flag that the two products/services are symbiotic
Do government RFPs include both your and their products/services together in the same RFP? If so, it's a flag that they are symbiotic
Do the other companies mention your service specifically on their websites? If so, it's a flag that there is some competition
Talk to the potential partners about the services/products you're thinking of offering and see what they say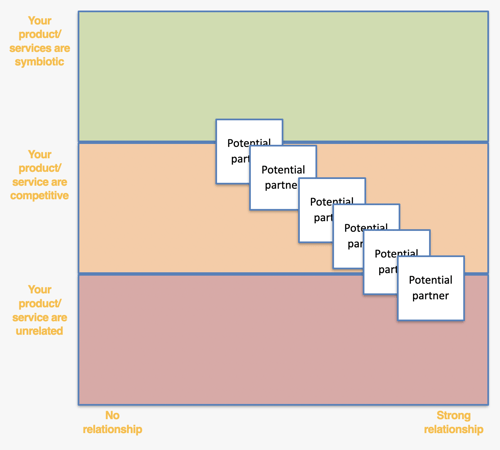 To help we've provided a two-dimensional matrix in the workbook. The vertical axis captures how aligned your products/ services are and the horizontal axis captures how likely they are to want to work with you.
The vertical axis (alignment): There are three bands in the product/ service axis:
The top is in green and this is for situations where your product/service and the partner's are symbiotic and non-competitive.
The middle, orange, band is for partner's who's products/ services are competitive
The red band at the bottom is for partner's who's products/ services are so dis-similar that it's unlikely that you could collaborate
The horizontal axis (relationship): This is a relative scale, so on the left are partners who are unlikely to want to work with you/ will require a lot of relationship building. The right hand side is for companies that you have a strong relationship with and already want to work with you.
Want to work with you v. like you: A lot of people think that a partner wanting to work with you and a partner liking you are the same. While there is an element of truth to this, in our experience, a partner generally won't work with you if they don't like you. However, liking you isn't enough for them to want to work with you. Instead we think that wanting to work with you comes down to 4 factors:
Your Credibility: When you say something do people believe that you know what you're talking about and can deliver.
Your Reliability: When you say you're going to do something do people believe you'll actually do it.
Your Connection: Do people know you at a surface level or do they understand you well enough to know what makes you tick
Your self-motivation: When you say something, even if it's correct and credible do people perceive that you're being transactional and working towards your own self interest
A note on competitive offerings: A lot of early founders think that when their offering is competitive that precludes a partnership. But we think that finding competitors, especially small business competitors, is a big win.
Being competitors implies that you and your "competitor" are somewhat set in your ways. For example if you both provide service X and if either of you stopped doing service X it would be a significant loss to your company, then you're competitors. But as a new business you have a lot of fluidity and can flex your service offering to turn a competitor into a partner so take advantage of that.
If you have a good relationship with another company that provides an offering that would be competitive with one of the services you are considering, and you want to work with them, go talk to them. Understand the gaps they see in their own service lines and evolve your offerings to make them a collaborator rather than a competitor.
Filling in the grid:
Take the first potential partner on your list
Place them in the center from left to right (doesn't matter what you think of your relationship with them, just put them in the center)
Place them in the correct vertical depending on how collaborative/competitive they are
Take the second potential partner on the list
Place them to the left of the first one if your relationship with the second partner is worse, or to the right if your relationship is better. And remember, when we say relationship we mean how credible, reliable, connected, and self-motivated they think you are
Place it in the correct vertical
Now repeat with the rest of your partners list
The goal is to arrange your potential partners so that when you read them from left to right they are in order from weakest to strongest relationship, and from most to least opportunity for collaboration if you read top to bottom.
It also means that if you start in the top right corner and read diagonally to the bottom left you should have arranged the partners from most to least promising potential partnerships overall.
A note on more advanced partner identification: Once you have relationships with officers at government agencies ask them who you should partner with. The government knows who the best companies are and, if they like you, they'll steer you towards them. You can also ask the Agency's Office of Small and Disadvantaged Business Utilization (aka OSDBU) about who to partner with.
Assess Your Potential Customers
Our customer analysis will look a lot like our potential partner analysis, mapping the customer relationships on the horizontal axis and how much of our product or service they buy on the vertical axis.
The key differences:
Relationship analysis: The partner relationship analysis considered the current state of your relationship, but most people don't have government relationships at this point in their development. So we'll also consider how hard it would be to build a relationship. For example, when you're evaluating your relationships with government customer X evaluate how they see you (credibility, reliability, etc) and how hard it would be to get to know them. To assess how hard it will be to build a relationship think about:
How far you are from them, if it's more than a 2-hour car ride it'll be pretty hard
Whether you have any connections to them through mutual friends
How active they are on social media and other avenues where you can engage them
Understanding how much they buy: As we discussed above, sizing your market using government data is tough so look at the partners you identified who do similar or even competitive work and see if they mention working for this customer on their website, if they do then there's a good chance this government office could be your customer too. If you can't find any mentions of this government agency/office then don't worry, the government is huge. But it's probably worth doing a quick data-driven analysis. For more on doing this see HERE
At this point you should have identified your leading product/service offerings, partners, and customers. Now it's time to put them all together.
Over the next couple steps we are going to:
Identify the most promising hypothesis
Validate or disprove the elements of your hypothesis
Start building your brand and credibility around this hypothesis
Build critical relationships
Now that we have our building blocks lets craft some hypotheses. In your workbook you'll note a page with a bunch of "madlibs" that look like:
"We provide __________ (product/service) to the _______________ (government entity) in collaboration with (Name of partner)____________.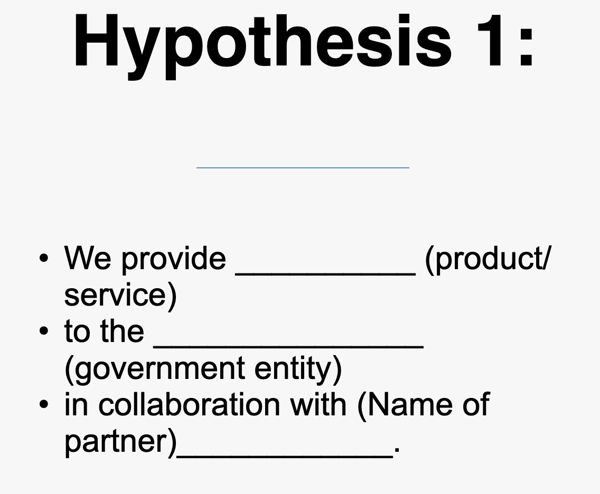 Fill in your Madlib with your most promising items and say it outloud. Does it sound plausible? Do you hear any obvious issues with it?
Is there alignment between each element?
Does the government entity buy the product or service?
Does the partner provide a collaborative offering?
Does the partner already have experience working at the government customer? (The partner doesn't need to have experience working with the government customer. But it helps)
Pressure Testing Your Hypotheses
Now the we have some hypotheses and discarded the ones that clearly don't make sense let's figure out which one to explore first:
If you're selling an established product or service (e.g. if there are a lot of other people doing this also). Then we'd sort your hypotheses (strongest to weakest) based on the strength of:

The Partner relationships you already have
Government relationships you already have
Your ability/credibility to do the work (Your ability to deliver is less important since the government will assume you can hire the people you need)

If you're selling a specialty product or service (there aren't many other people doing this). Then we'd prioritize your hypotheses based on the strength of:

Your ability/credibility to do the work
Government relationships you already have
The Partner relationships you already have (partnerships are less important since you are unique and have customer traction, so partners will come to you)

Select your most promising hypothesis.
We highly recommend that you only focus on one hypothesis at a time. If you're successful you can expand to the others later.
Piloting Your Hypothesis, and Building Your Foundations
We've found that the best way to pilot your hypothesis is to write and publish (typically on LinkedIn). The basic idea is:
Come up with 6-12 ideas for short writings (<2,000 words) and 2-3 long writings (>10,000 words)
Write and publish one piece every other week
Track the market's engagement with your writing.

Do people read it?
Do they bring up issues with it? (A good sign that you have a gap to fill in your product or service, or at least a gap in how you talk about it)
Do people repost it?
When people comment on it what are the comments like?
Do people want to talk to you more?
Which topics are people excited about? Who likes our article? What topics do people ask for?
When we reach out to the people who liked our articles do they respond? Do those conversations grow?

If people engage it is a good sign that people find you credible and are interested in your perspective on the topic (which is a good proxy for willingness to have a conversation which is a good precursor to getting on contract)
We think about every article we post as a test. We publish a LOT of analysis and content on LinkedIn and every time we do we're looking at the engagement and using that information to shape future writings and how we market ourselves
The benefits of writing: We know how hard it is to publish on a regular basis but it has been the key to our success:
It's helped us identify which of our potential services people actually wanted
It's helped us identify partners (typically they are the ones commenting on our posts)
It's built our credibility in the community
It's built our audience and reach as people followed us
It's led to interviews on podcasts and in trade media
Future customers have found us through our old writing
Its given us access to government officers
We can not overstate how important publishing has been to our success
How to Come up With Things to Write About
Coming up with articles is intimidating so here are some thought starters to get you going:
Past oriented articles

History/background of your product or service in the private sector
History/background of your product or service in the government
Critique of how we got here
Roundup of articles already published on your topic
Round up of resources related to your topic
Analysis of key texts (e.g. statutes and regulations)

Current oriented articles

How to guides on the topic generally (we do a lot of these)
How to guides on key aspects of the topic

Future oriented articles

What the future looks like in your topic
What the future should look like

Customer (person) oriented

A "system administrator's perspective on X"
A CEO's perspective on X

Industry

How the topic looks in a particular industry
A round-up of different practices from different industries
A survey about something in your area

Financial

Discuss the costs and benefits of the product/service from a providers perspective
Discuss the costs and benefits of the product/service from a customer's perspective

Sharing other peoples' content:

While posting someone else's content is less powerful than creating your own it takes much much less time so you should do it a lot. The easiest way to find share-able content is to cruise Linkedin and read trade publications. As you find quotes or even full articles that you like, comment on them, and share them with the link back to the original content.

Get ideas from friends:

Ask someone you respect what to write about.

Crowd source:

Post a list of articles you're thinking about writing on LinkedIn and ask the community what they think.
Some Thoughts on Writing:
We're not experts on writing but we've found a few things that have worked well for us.
Start every article by explaining why someone should read the rest. There's an incredible amount of content out there and people have short attention spans so tell them why it's worth investing 10 minutes to read your piece.
Include charts and data wherever possible. People generally engage with numbers more effectively when they're visualized, and charts and process maps give credibility.
Try to co-author a piece with someone who already has a large following. Even if you actually do all the work, giving someone with a large audience a co-author credit and letting them release the piece on their Twitter or LinkedIn is a great way for you to build your audience and to build a relationship with them.
Everyone loves surveys. If you have a large network consider creating a simple survey and asking friends to respond.
For a longer piece consider writing a how-to guide. Teaching people how to do something is an incredibly effective way to build credibility.
Building Your Partnership and Government Relationships
I'm a firm believer that you build business relationships with someone by doing business with them. But that begs the question of how to get started and we believe that the answer is doing non-paid projects with the people you want to work with.
Imagine two scenarios:
Scenario 1: Tell people you can do the work: This is the most common approach. A company puts up a website that says how good they are, they go to conferences and hand out marketing materials that say how good they are, and they write up case studies of previous projects that again, say how good they are.

And based on these assertions they expect that another company or customer will pay them thousands of dollars to do critical work for them.

In my experience this is a low percentage option. People rarely read marketing materials and believe even less.
Scenario 2: Demonstrate you can do the work: In our experience very few companies do this, but the ones that do have a much higher success rate. In this scenario the company still puts up the "I'm so great" website and hands out the marketing materials but instead of jumping straight from that to asking for work these entrepreneurs suggest collaborating on a low risk project that will create value for them and the partner.

For example, they ask the prospective partner to participate in a survey, or to work on an article together, appear on a podcast with them, or do something else collaborative. If the survey, article, etc go well then the entrepreneur and the partner get value. If it goes terribly it isn't the end of the world for either person.
The characteristics of a good project: The goal of all these collaborations is to build Credibility, Reliability, Connection, and reduce perceived Self Orientation. Any collaboration should address those elements and ideally will be:
Low risk
Low effort (this one is tough to achieve)
Value creating for everyone
Things That Build Your Relationship With Someone
The kinds of collaboration you can reasonably ask for evolve as your relationship grows. Start small.
Things you can do from a cold asks/when you have no existing relationship:
Ask for a quote for an article you're writing
Ask them what you should write about
Ask them to react to your business plan
Ask them to provide feedback on a customer or other partner
Join a trade association they're a part of
Things you can do when this is a new relationship:
Ask them to provide feedback on a blog post
Ask them to co-author a blog post
Ask them to do an audio interview that you publish
Ask them about gaps in their service/product delivery so that you can shape your offerings
Things you can do when this is a mature relationship:
Ask them to co-host and co-produce an event, pitch competition, hackathon, fire-side chat, etc
Ask them to co-host and co-produce a podcast
Ask them to co-author a longer written piece or survey
Ask them to co-author a white paper to send to a customer
Ask them to co-develop a response to an RFI
Ask them to co-develop a proposal for a low risk piece of work like an SBIR
A note on government employees: If you ask a government employee to do any of the above they'll probably have to get sign-off from their ethics department so expect that it will take quite some time, and many will decline just to avoid any improper appearance. But if you ask and they are interested in helping they may support the event, writing, etc from the shadows, which, from a relationship building perspective, is just about as good as a full and visible collaboration.
Finding more partners: At this point you should have a pretty clear sense for your product/service and your likely customer so it's a good time to do a rigorous (data driven) review of the existing vendor ecosystem (aka your potential partner ecosystem) and add them to your partner relationship building plan. For more on identifying the current vendor ecosystem see HERE
As you are publishing and pressure testing your hypothesis be realistic about the traction and signals that you're getting. If you just aren't getting engagement from the market consider moving on to your next hypothesis. It's no fun to write a half dozen articles over a month only to realize that the market isn't interested, but it's much better to realize that after a couple of months than after going all in on a business that doesn't get traction.
How long should you pressure test and build relationships?
The honest answer is that you'll be doing this for as long as you're running your business. The nature of your writing will evolve, and who you're building relationships with will change but we have lots of friends at top 10 government contractors who spend an incredible amount of time writing and relationship building.
And pivoting is not failing. Every successful business we know has evolved and made dramatic pivots over their lives.
Conclusion and Next Steps
We know this is a lot to do and can be intimidating. Obviously we think that you should do all of it but if that isn't realistic for you we still suggest doing as much as you can and don't beat yourself up.
Starting and running a business is a marathon so do what you can, keep testing different hypotheses till you find the one that gets excitement from the market and when you find it double down. Publish more and build more relationships. Before you know it you'll be on contract making money and serving clients. We know you want to get there fast, but this is the safest and most reliable way we know of.
Good luck, and happy writing!
Next Steps
In our next post we'll focus on turning this successful hypothesis into a full business:
Build out the rest of your business plan
Start building your corporate infrastructure (service providers, registrations, website etc)
Responding to RFIs and other low risk proposals
More SBIR and Government Market Resources